Download Unlock Denmark 2023
Unlock Denmark 2023 gives an introduction to the areas where Grant Thornton can help for those considering conducting business in Denmark.
Download PDF [666 kb]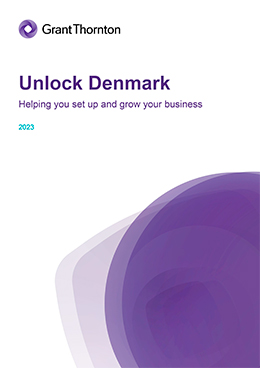 Unlock Denmark - Helping you set up and grow your business
Expanding into new international markets can be challenging due to the many issues to consider and resolve. Our "Unlock Denmark" service aims to assure that you get professional support every step of the way to your new venture. From finding the best location to setting up a branch or a subsidiary - we are fully committed to your success.
International expansion is an important step, and we know how to make it an easy one. With a dedicated international business advisor, who takes the time to understand your business and tailor the service to your specific needs, you can focus on making the right business decisions and efficiently manage the risks and maximise your potential on the new market thanks to professional and timely advice.
Our advisors can help you at every stage of your company's growth cycle – from starting-up, raising venture funding, listing on an exchange, acquiring or merging with another company, or using Denmark as a base to expand into other markets. Regardless of the challenge, we make sure that your business is ready for it.
We can help you with the following services:
Setting up a company
Site selection process
Employment issues
Tax advisory
ESG advisory
Back office services
Transaction services
Business growth support
Audit and assurance
Download the pdf above and learn more about how Grant Thornton can help you set up and grow your business in Denmark.